Whether for camping, guests, or watching TV, a folding mattress is an excellent investment. Unlike an air mattress, a folding mattress is easy, quick to set up, and never deflates. But which one should you get?
This best folding mattress roundup will cover my top picks, what makes them stand out, and which is best for you. Let's unfold some great sleep.
What is a folding mattress?
Think of a foldable mattress as a portable, easy-to-store bed you can take anywhere. These are typically made from cozy memory foam or soft materials to help you or your guests get a good night's sleep.
What to look for in the best foldable mattress
Consider a few things if you want the best foldable mattress possible.
Size
If you're looking for a foldable mattress, size matters. You don't want something that doesn't fit in your car or is neatly stashed below your kid's twin bed. Be sure to notice all the sizing specs, including the foam's height, the base's width, and how compactly the mattress folds.
Material
If allergies are a problem, it's essential to look at the best foldable mattresses and choose one that's hypoallergenic and doesn't include fiberglass.
Support
Many portable mattresses tend to be firmer to keep their shape. If that's not your thing, look for something that offers softer, plusher gel foam.
Comfort
Not all foldable mattresses are created equal. While some can get you by for a night or two, others can be used in the long term. Check for breathability so moisture doesn't build up, firmness, and ease of cleaning. The best folding mattress is one you'll want to use.
Ease of Portability
Just because it folds, that doesn't mean it's easy to take with you. The best foldable mattresses fold into a nice little rectangle or square that fits perfectly in your car or home.
The Best Folding Mattress Picks 2023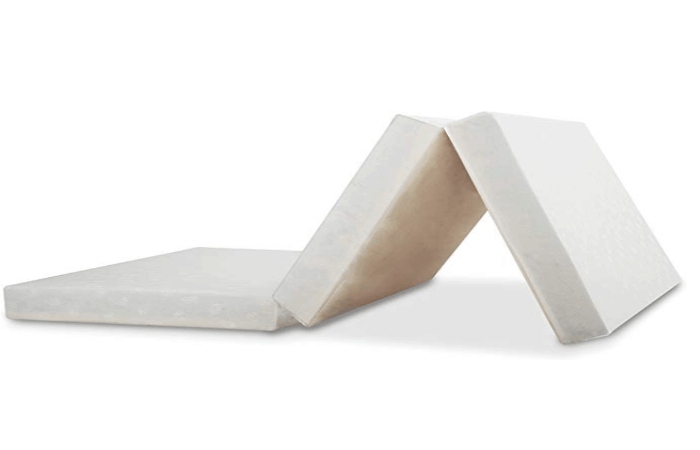 Milliard Tri-Folding Foam Mattress
The Milliard Memory Foam Tri-fold Mattress is the next best thing to your bed at home. Made from three pounds of soft yet supportive memory foam (a medium-firm feel), this foldable mattress is ventilated for airflow over a 4.5 foam base. This bed won't lose shape and is made for long stretches of use, camping, or extra guest bed.
With more than 8,300 reviews and an impressive 4.7-star average, this mattress promises a restful night of sleep. A moderate price point means money is well spent. Make sure you invest in a properly-sized mattress cover, though especially if you plan to use this folding mattress for little ones.
Hide-A-Mat Trifold Mattress
For those needing a foldable mattress on a budget, the American Furniture Alliance's Hide-A-Mat does the job at a great price. This mattress is made from a soft poly sleep surface and pro fiber with non-slip mesh slides.
It's breathable, comfortable, and portable all under $80. We love how easy it is to stack and store just about anywhere under your favorite Walmart twin mattress and bed, attic, guest closet, or RV. It's perfect for overnight guests and beats an air mattress any day of the week.
6-Inch Tri-Folding Memory Form Mattress
If you're looking for support and quality with six inches of foam, the Moldblly Tri-Folding Mattress is it. This model features one-inch gel memory foam and two inches of high-density support foam, offering a perfect night's rest with just the right amount of firmness.
This impressive mattress folds into a stacked bed on the go, giving you and the fam the freedom to go anywhere. The modest price range also puts it within reach for just about every budget.
Memory Foam Folding Mattress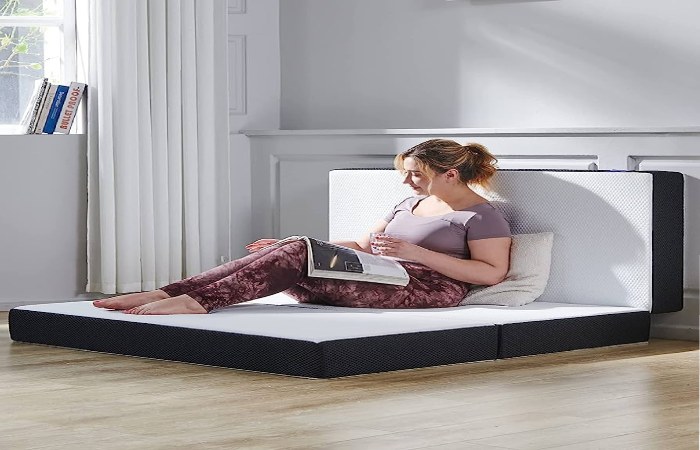 Some parents want a little more luxury when purchasing a foldable mattress. The Inofia queen trifold mattress is designed with support yet plush comfort in mind. It's robust enough to offer guests staying several days at a time but compact enough to fit in just about any decent storage space in your home.
Complete with a removable jacquard ultra-soft bamboo fiber surface, breathable grey mesh sides, and non-slip bottom, this mattress is made from a 1.5-inch memory foam and a 4.5-inch support foam base for a premium feel.
This clever sleep solution also has a 100-night sleep trial and a 10-year guarantee to ensure your best night's sleep. Prices range from $98 for a 4-inch cot to $260 for a six-inch queen size.
Queen Folding Mattress
I am calling all campers! This foldable mattress comprises three separate pads that you can break up to use individually or together. It's ideal for big kids, adults, and even camping with a baby.
Fold it to lounge on the makeshift 'couch' or lay your head beneath the stars on the 100% hypoallergenic high-density foam. The four-inch thickness provides the support you need inside your tent. Put a sheet over it or a sleeping bag on top it's up to you.
Each of the three mattress pads unzips for easy washing. The ends also have handles to move the mattress. Need more options? We love that it also has a popular twin-size and full-size option.
"This folding mattress is exactly what we needed for unexpected guests at our lake cabin," shares verified Amazon reviewer JDM. "It's perfect as an extra guest bed or for people who want to sleep in the gazebo."
FAQs
Can you clean a foldable mattress?
Cleaning even the best foldable mattress can be tricky unless it has a removable cover. These removable covers can usually be thrown right into your best washer and dryer without worry much like sheets.
If you already have one of these brilliant travel mattresses without a cover and need to clean it, don't worry. Most foam-based folding mattresses are easy to spot clean with soapy, warm water and a blotting cloth. Remember, foam can change when it gets too cold or hot, so keeping the water temperature tepid is essential.
After you've spot-cleaned and allowed several hours of drying time, please do yourself a favor and cover it with a folding mattress cover. You can thank us later.
Where is the Best Place to Store A Folding Mattress?
That depends on your lifestyle, but we suggest storing all folding mattresses in dedicated storage bags to prevent dust, critters, and debris from causing you to lose sleep. Once inside a storage bag or cover, under a bed, inside a closet, or even in the garage is excellent. Ensure your preferred storage spot is clean, dry and doesn't experience extreme temperature fluctuations.
Related posts