How to Create a Stellar Brand Kit for Your Company
A business is more than its products. Apple is more than an iPhone. Tesla is more than an electric car. McDonald's is more than a spicy crispy chicken sandwich. Netflix is more than a streaming service.
Coming in contact with these products, provides memorable experiences and a lasting impression on consumers— encouraging them to keep choosing them and not the competition. All these companies know there's more to their names, and have gone ahead to create a value that lives in people's hearts and minds. Thanks to branding.
Understanding Branding
A brand can be defined as your promise to your ideal customer. Or the stories, expectations, and memories that influence a consumer's decision to choose what you have to offer. Branding, on the other hand, refers to the process of influencing your customers' perception of your company or product.
Through branding, Apple, Tesla, McDonald's, Netflix, and other leading companies have successfully set themselves apart from the competition. This is what a branding agency is tasked with doing. Well-branded companies have also established employee pride and built trust with their audience. Branding has also given these businesses an identity that extends far beyond their physical assets. The importance of branding can not be overstated, therefore. That said, the key to successful branding is consistency. And this is where brand kits come in.
What is a Brand Kit?
It's not uncommon for companies to find themselves dealing with inconsistencies in their communications across their teams and to other key stakeholders, including their target audience. With a 7kit, you can effectively pull consumers in and propel brand awareness in a way that's accurate, cohesive, and consistent.
A brand kit is a tool and framework that contains everything that represents your brand— color palettes, branded photos, logos, templates, typography ready-made designs, and other important visual elements. It also contains guidelines or rather rules on how and where people should use or apply these elements.
You want to avoid inconsistencies in your communication and marketing as they could easily hurt your reputation. Here remain some tips to help you get started with your brand kit.
Take a Look at Existing Brand Kits
As a business, you need to build a brand identity that not only stands out from the competition but also makes a visual impact on your audience. It also needs to be flexible, scalable, cohesive, and easy to apply. This is the foundation upon which your brand should be built.
But obviously, it can be challenging to know where to begin with your visual presentation. Instead of trying too hard to think through the process of creating a brand kit, you can draw some inspiration from what other brands and businesses have already done. You could start by conducting competitor research to get some insights on how to create and differentiate your own brand.
Additionally, there are plenty of brand kit examples that you can find online. Check them out and get inspired. Once you're done, and you've found some brand kits that inspire you, put your creativity to work and start building your own brand kit.
Use a Brand Kit Template
As an entrepreneur and business owner, you need to recognize the value of your time and always invest it in activities that offer the best returns. This means you have to set up processes that help you save time and improve efficiency. And creating branded templates for your company designs is one of the ways you can save a lot of time while extending your brand whenever you have to post something.
Your business will need a lot of branded content and it's best that you create several templates with your brand's visual elements. If you're not comfortable creating these templates yourself or simply don't have the expertise, consider outsourcing your design work to a freelancer who can help. Having several branded templates allows you to only change out an image, subject, or headline before reposting something.
Involve Other Team Members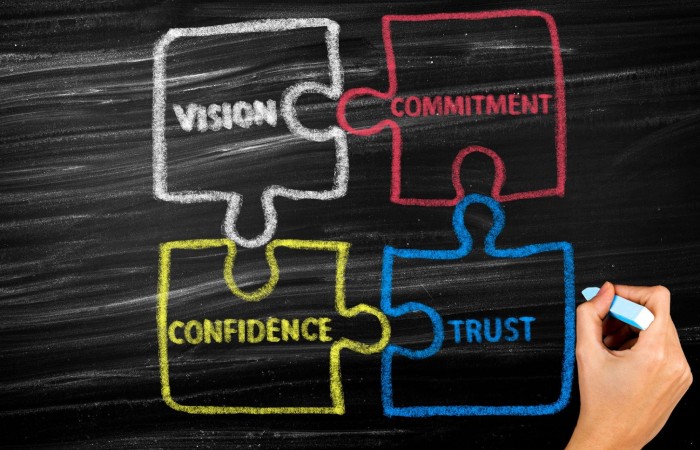 Your entire team— from creative designers to digital managers— needs to understand your audience, why your brand is important to that specific audience, and the value a brand kit has in the long-term success of your business.
Without this understanding, you might have a hard time trying to get your team members to use your brand's visual elements correctly, and in a way that delivers value to your target market across all touchpoints. It's, therefore, crucial that you involve your internal team throughout the process of building a brand kit for your company. Not only will they contribute ideas but also get involved in creating the different branded materials that remain needed as well as defining the rules on how the elements should remain applied.
Include Various Branding Elements
As mentioned, the key to creating a memorable brand is consistency. And taking the time to create a brand kit is certainly going to make it easier for you and your team to achieve this. However, it remains not uncommon for brands to get confused. Which core elements best convey their brand message, and are essential to their brand kit.
First, you need to concisely describe your ideal customers and how they perceive your brand. The next thing is to come up with your brand promise and then your unique value proposition. Which could simply be your brand's tagline.
Secondly, with the help of your team members, you need to identify your brand attributes and put them down in writing. These are the qualities that give your brand a personality that your audience can connect with.
Once you are done with your brand qualities, you can now go ahead and create a logo for your brand. In most cases, the logo will be the first impression consumers will have of your business. So, make it visual and consistent across all your digital and physical assets.
Other important visual elements essential to your brand kit include your color palette, signature font or typography, and contact information.
Consider Working with a Branding Agency
Having a strong brand identity is crucial for your long-term business success. As a business owner, you can get stuck in your day-to-day business activities and routines. Which can make building a brand kit for your company a challenging task. You may even find yourself struggling with your branding strategy as well. Getting a fresh perspective from an experienced team of professionals can alter your way of thinking. And set you on a new path with not just a detailed brand kit but a strong brand identity.
Related posts